In the middle of June 2021, Matamata Piako District Council (MPDC), Filtec and Lutra began physical work on the renewal of all 12 gravity filters in the district. The project comprises of renewal of the existing media, replacing the nozzles and increasing the height of the backwash launders.
The Matamata Piako district has three WTP's running gravity filters:
Tills Rd WTP (Matamata) has three direct filtration filters with anthracite as the media. These filters are all original Patterson Candy designs constructed in the 1960's.
Te Aroha WTP has 4 gravity filters, two were original Patterson Candy design (1960's), and two more were constructed in 2006. The existing media in these filters is sand.
Morrinsville WTP has five gravity filters all original 1960's Patterson Candy design. As Te Aroha the existing media is sand.
As part of the project scope, it was decided to opt for anthracite media, with two support layers of gravel at all 3 WTP's. To accommodate this, modifications had to be made to the backwash launders in the Te Aroha and Morrinsville filters as a larger volume of media was required.
The anthracite media and nozzles were shipped from Australia in 10 x 20-foot shipping containers in early 2020. Work began on the 17June at Tills Rd WTP. The decision was made to start at Tills Rd primarily due to access issues making the loading of the new media very labour intensive. At Morrinsville and Te Aroha WTP we can use 1T sacks and a crane to unload the media into the filters.
At Till Rd WTP, 22kg bags had to be manually transferred and loaded into the filters. Below is a breakdown of how many bags were needed per filter:
120 x 22kg bags of 6-12mm gravel.
72 x 22kg bags of 3-6mm gravel.
432 x 22kg bags of Anthracite media.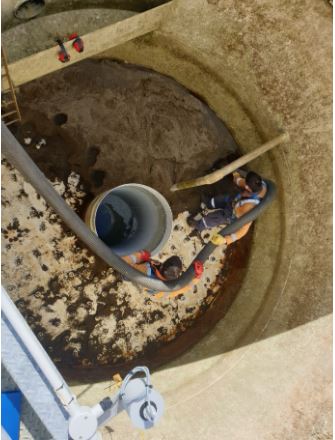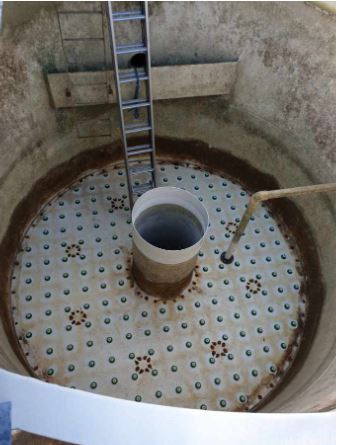 The project was running smoothly until work started on the final filter. It was discovered that Filter #3 had a fake floor. This meant the new nozzles were not long enough and as such could not be used. A new batch of nozzles were ordered and the project team moved to Te Aroha WTP.

Work began on the two older filters at Te Aroha. We expected each filter to take around 7-10 days to complete. Unfortunately, we hit issues at Te Aroha WTP which meant each filter took around 20 days. The existing sand media has built up in the underdrains and the new nozzles could not be installed until this was cleared. These filters do not have inspection hatches meaning the cleaning process was slow and repetitive. Lessons were learnt from filter #1 though and filter #2 was completed as scheduled.

After finally completing the two older filters at Te Aroha the project team moved back to Tills Rd and completed work on the final filters. On 30 August all 3 filters were commissioned and the plant was back up to full process capacity. Initial run times show an encouraging increase in treatment performance and duty times.

The project is currently back at Te Aroha WTP and the team are making fantastic progress on the two newer filters. Work is expected to be finished at Te Aroha WTP on 20 September. After this we'll mobilise at Morrinsville WTP and hope to complete the works onsite by the end of October.

Keeping the project flowing, while also fulfilling all planned duties, reactive tasks and compliance activities is what makes confident and competent Operator's integral to any 3 Water team. Ross Hall, Deacon Paul, Peter Davies, Nathan Wirihana and Peter Rombouts make up the MPDC Water Operations Team. They have done a fantastic job as they always do.

MPDC also recognises Filtec and Lutra. They have done stellar work on this project over the last six months, from design to physical works. We'll follow with an update once all is completed and share some performance results.